Pneumatics Trainer offers a classroom-based resource for practical investigation of pneumatic components and systems.
The trainer consists of a two-part rig, the first of which allows users to connect components to create fundamental circuits. The second element is an electro-pneumatic sorting system that brings together electronic sensing, actuators and logic gates to sort clear and black parts into different bins.
This resource can also be used in conjunction with Optional
Cloud-based Software
, which offers online practical tasks as well as interactive theory presentations, investigations, and assessments, which link directly to the practical activities carried out using this resource.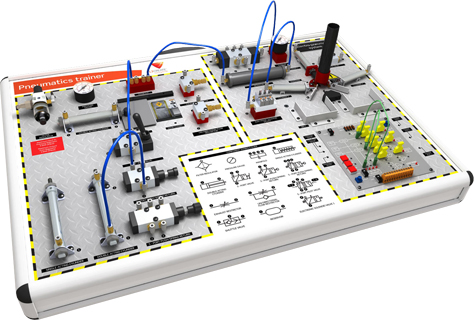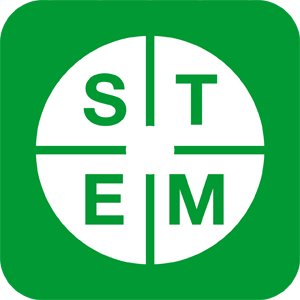 Specifications:
Training Concepts:
Principles of Pneumatics
Components, Symbols and Circuits
Cylinders
Valves
Speed Control
Pneumatic Logic Functions
Electro-pneumatics
Sequential Control & Automatic Circuits
Time Delays
Problem Solving
Pneumatic Components:
1 x Pressure Regulator
1 x Supply Pressure Gauge
1 x 4 Port Supply Manifold
1 x Single Acting Cylinder
1 x Double Acting Cylinder
1 x Double Acting Cylinder Operated Door
1 x 3 Port Valve
1 x 3 Port Valve (Spring Return)
1 x 5 Port Valve (Spring Return)
1 x Exhaust Restrictor
1 x Unidirectional Flow Restrictor
Electro-pneumatic Sorter:
1 x 5 Port Pilot Valve
1 x Inline Pressure Gauge
1 x Shuttle Valve
1 x Reservoir
3 x Electronic Solenoid Valves
3 x Single Acting Cylinders
1 x Parts Dispenser
1 x Set of Part-sorting Sensors (Optical and Mechanical)
2 x Part-sorting Containers
1 x Digital Logic Connection Board
Trainer includes:
Trainer
Hand Operated Air Compressor
Accessory Kit
Power Supply
Curriculum CD
Product:
Pneumatics Trainer
Product Code: 270-01