Tractor 4WD (Kubota) Cutaway
Accurate section of a small tractor with several technical features interesting for educational purposes.

This cutaway model is carefully sectioned for training purposes, professionally painted with different colours to better differentiate the various parts, cross-sections, lubricating circuits, fuel system, cooling system etc. Many parts have been chromium-plated and galvanized for a longer life.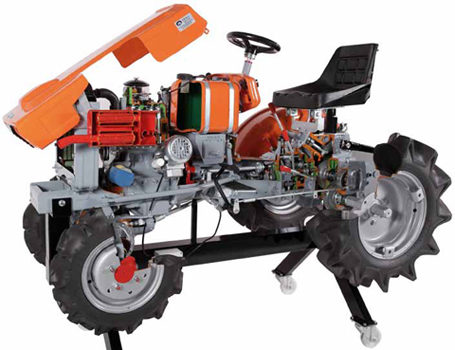 Specifications:
Main Technical Specifications:
4 stroke diesel engine 20hp/ 16Kw
Water cooling system
Lubrication of trochoid pump
In-line injection pump
Dry single-disc clutch
Gearbox: 6 speeds + 2 reverse with gear reducer
2 speed power take-off
Rear differential with mechanical locking
Possibility of disengaging the front drive
Rear drum brakes
Sector steering gear box
Hydraulic lifter
Other Specifications:
Operated: Electrically (Motor 230 V)
Equipment Layout: On Stand with Wheels
Dimensions: 190 x 110 x 160(h) cm
Net Weight: 345 kg
Gross Weight: 500 kg
Product:
Tractor 4WD (Kubota) Cutaway
Product Code: VB 8000