Customisable Modular Mobile Robot Platform
Innok Heros Robot is optimised for Research purposes and Rapid Prototyping which enables you to quickly and reliably configure your mobile robot platform.
ROS
Modular
Heros Software Framework
Standardised Interfaces
Industrially Tested Components
Open System Architecture
Software:
The Heros software framework is modular too. Based on the ROS (Robot Operating System) open-source platform and the Ubuntu operating system, drivers and preconfigured components are available. Other operating systems can be set up on customer's request as well. Of course, the drive is also directly controllable.
Interfaces:
Heros comes with a CAN bus connection as standard. Using the optional LAN / WLAN interface, you can connect Heros to the on-board PC or your network. The control computers can be located directly on the robot or can be accessed from outside via a wireless network connection. The connection box allows you to connect your individual sensors and to supply them with electricity from the vehicle's power pack if required.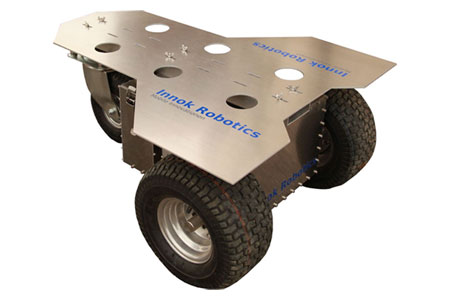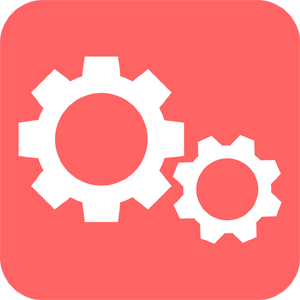 Technical Specifications:
Dimensions:
Length: 920 (900 - 1700) mm
Width: 720 (620 - 1200) mm
Height: 440 (390 - 500) mm
Ground Clearance: 95 - 195 mm
Payload:
Weight: 70 - 140 kg
Max. Loading: 70 - 400 kg
Materials:
Chassis: Aluminium and stainless steel
Mounting plate & construction: Aluminium
Ambient Operating Temperature:
Protection Class:
Vehicle: IP65 (IP66/67 optional)
Add-Ons: up to IP66/67 (acc. requirement)
Motors/Drive:
Brushless DC motors
2WD: Continuous power 800 W
4WD: Continuous power 1600 W
Customizable gear ratio
Encoders for odometry
Steering System:
2-wheel drive: differential steering
4-wheel drive: skid steering
Drive Wheels:
Steel rim
Diameter: 320 - 520 mm
Tractor profiles, floor profiles.
Power Supply:
Modular quick-change system 48 V, up to 50 A continuous discharge
Standard battery: 400 Wh (lead)
High-Power battery: 960 Wh (Li-Ion)
On- & off-board charging possible
Product:
Innok Heros Robot
Product Code: INNOK HEROS ROBOT