Wheat Harvester Model Cutaway
This is a model of a wheat harvester machine. This model clearly shows the combine harvester main elements. Moreover, it has been sectioned in order to show the functioning principles of the internal parts.
The Model Shows:
Cabin
Engine compartment
Wheat tank
Tailing elevator
Shaking screen
Fan
Threshing drum
Beater
Conveyor
Auger
Grain auger
Cutter
Revolving wheel
This cutaway model is carefully sectioned for training purposes, professionally painted with different colours to better differentiate the various parts, cross-sections, lubricating circuits. Many parts have been chromium-plated and galvanized for a longer life.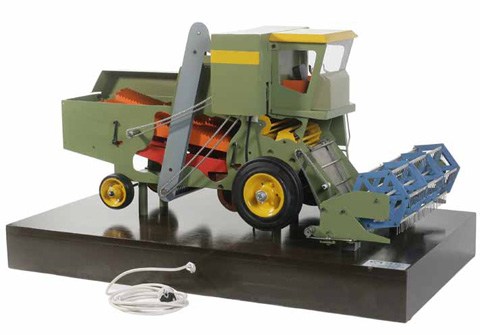 Specifications:
Operated: Electrically (Motor 230 V)
Equipment Layout: On Base
Dimensions: 110 x 60 x 60(h) cm
Net Weight: 30 kg
Gross Weight: 40 kg
Product:
Wheat Harvester Model Cutaway
Product Code: VB 8660